Summer Day Camp for Greenwich Campers
Camp Playland is "the day camp with the away camp atmosphere;" providing a safe, fun and instructional summer for children from Greenwich, Old Greenwich, Cos Cob, Riverside and all over Farifield and Westchester Counties. Founded in 1957, summer 2016 will be our 60th summer of fun for boys and girls ages 3 to 14.
Camp Playland is a family run business.  Walter and Pearl started the camp.  Their son Gary and his son Steve continue the family tradition.  The Blooms take tremendous pride in caring for your children.  Door to door transportation is provided from Greenwich.  Small school bus / vans driven by professional drivers transport campers.  In addition to the driver, a Greenwich college or high school person rides as a bus counselor.  Buses are equipped with seat belts.  Camp Playland is located in New Canaan 2 miles north of the Merritt Parkway.  Travel time from Greenwich is very quick.  The bus ride becomes an extension of the camp day.  A spirit of camaraderie begins on the bus ride and continues during camp activities.  Transportation is offered in zip codes 06831,  06830,  06870,  06878,  06870 as well as other Connecticut and Westchester communities.
Most important to Playland is providing a safe and fun summer.  We hire mature and experienced staff members who truly love children and love outdoor activities.  Children are grouped according to grade in school; for most age groups boys and girls are separated.  There are 14 to 16 children per group.  A senior counselor leads each group and 2 or 3 counselors assist.  Head Counselors supervise every 3 or 4 groups.  Specialists with expertise in their area teach skills and games.  The specialist stays at the activity all day and plans and implements the program.  Group counselors escort the group to the activity and participate with the campers.  We maintain a 1 counselor to 4 camper ration.  Playland staff members are trained to structure every activity for success.  Campers are encouraged to try everything in a safe environment.
The social experiences engendered at Camp Playland last a life time.  Campers from Cos Cob, Old Greenwich, Greenwich and Riverside are grouped with children from within their community as well as children from all of Fairfield County and lower Westchester County.  Camp allows kids to be kids in an unpressured environment.  It is a wonderful opportunity for children to socialize with peers and mentors and to create memories that will last a lifetime.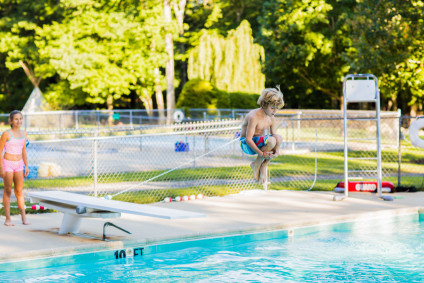 Camp Playland has the most beautiful campus.  We are nestled on an 18 acre campus that is surrounded by hundreds of acres of woodland.  We have three heated swimming pools.  Two pools are built to teach young children to swim.  The third pool is for older campers and has a diving board and water flume.  Older and younger campers participate twice a day in swim lessons and free swim.  We have athletic fields with a soccer field and a baseball stadium. Campers enjoy learning new skills in all athletics in addition to playing games.  The campus includes a nature building, outdoor theater, boating and fishing pond, music room,  ropes course, archery range and paint ball sling shot range, mini golf and golf driving range, karate area, arts & crafts studio, multiple play areas and more.  We pride ourselves on maintaining the most beautiful and complete day camp facility.
Lunch at Camp Playland is delicious and nutritious.  Everyday a catered lunch is provided by Tony's Deli Restaurant which is located in New Canaan and Greenwich.  Every child's dietary needs are met.  Playland is nut free.  Kids sit with their group friends and counselors in our beautiful picnic pavilion during lunch.  Our calendar of Special Events is published well prior to the start of camp.  Every week is packed with fun activities like Wet & Wild Days, Carnival Day, Foam Parties, Wacky Hair Day, Song Fest and more.
Camp Playland is the place you want to be this summer.  We are happy to welcome Greenwich families and we invite you to arrange a time to visit.  Summer 2016 will be another safe, fun and instructional summer.