Summer Day Camp for Darien Campers
Camp Playland is "The Day Camp with the Away Camp Atmosphere!"  Camp Playland in New Canaan offers the finest facility, most mature staff and an incredibly diverse program for Darien campers and families.  Camp Playland was founded in 1957 and is a third generation family owned and operated summer camp.  Gary and Steve Bloom, father and son directors, take pride in providing the most wonderful summer experience for campers in Darien and all over Fairfield and Westchester Counties.  Playland provides door-to-door bus transportation in Darien.  A yellow school bus, driven by a professional driver will pick campers up at the their homes.  A Camp Playland counselor, typically a Darien resident, will ride the bus as the paid bus counselor in order to ensure every camper has the best bus ride possible.  Bus rides are a lot of fun and are an extension of the camp day!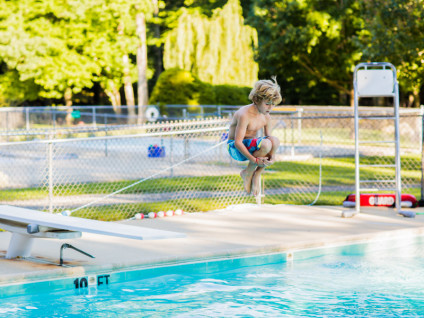 Camp Playland is located on Ponus Ridge in New Canaan, not far from Middlesex Road, Hoyt Street, and the Woodway Country Club in Darien.  This means a short bus ride for all Darien campers.  Campers ages 3-14 will be placed in single sex groups of 14-16 children who are all entering the same school grade.  These campers stay with their group counselors all day.  Camp Playland enjoys a 4 to 1 counselor to camper ratio.  Camp Counselors are school teachers, college students and high school students.  These group counselors escort campers from activity to activity where they meet skilled specialists who have planned the activity specifically for the age group.
A catered lunch is provided for all campers everyday.  Lunches include, but are not limited to pizza, hot dogs, hamburgers, chicken tenders, quesadillas, meatball heroes, sandwiches, fruits, vegetables and an assorted salad bar and bagel bar. We meet the needs of all campers with allergies and picky eaters.  We provide a popsicle or ice cream snack each afternoon.
Facilities include:
Three Heated Swimming Pools
Tunnel Twister Water Flume
Archery Range
Paint Ball Sling Shot Range
Baseball Stadium with Padded Outfield Wall
Mini Baseball Stadium with Home Run Wall
2 Soccer and Lacrosse Fields
Boating & Fishing Pond
Human Fooseball Court
300 Ft Zip Line & 80 Ft Zip Line
High Ropes Course with Climbing Tree, Swing Shot and Flying Squirrel
9 Hold Mini Golf Course
Golf Driving Range
2 Basketball Courts
Tennis Court
3 Ga-ga Ball Courts
Air Conditioned Arts & Crafts Studio
Air Conditioned Infirmary
Low Ropes Course
Outdoor Karate Dojo
4 Creative Play Grounds with Running Water for Sand Play
Water World (Extended Water Play with Water Tanks, Pipes, Sand and Water Toys)
Gymnastics Pavilion
Outdoor Amphitheater for Dance and Drama
Air Conditioned Music Studio
Duck Pin Bowling Ally
Air Conditioned Pre-K & Kindergarten Buildings
Science Exploration Pavilion
3 Dining Pavilions
Carpet Ball Tables