Summer Camp for Stamford Families
Camp Playland of New Canaan provides a safe, fun and memorable summer for families in Stamford CT.   Playand is located on eighteen beautifully wooded acres and combines an excellent facility with a mature staff and an outstanding program to offer the finest day camp experience in all of Fairfield County.  Playland was founded in 1957 by Walter Bloom and continues to be owned and operated by the Bloom family, now in its third generation.  Sixty-eight campers were enrolled the first summer and the facilities consisted of a pool and a ball field.  Every year new additions are made to the Playland facility resulting in the premier campus of Fairfield County.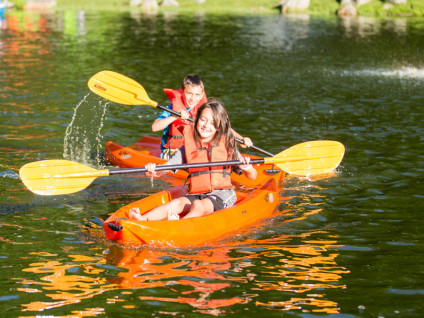 Today Camp Playland enrolls over four hundread campers and has a staff of over one hundred and fifty teachers, college and high school students.  Playland prides itself in being the best.  The directors and staff are dedicated to providing campers with a SAFE, FUN and INSTRCTIONAL summers.  We work hard to guarantee that every Playland summer is fun for all campers.  We offer a skill development program that enables each child to grow and learn at their own level.  The relationships that children form with each other and with our staff provide the foundation for the Playland experience. Children thrive when they feel known and accepted.  By experiencing our program, campers will discover new interests, increase competency in skills and gain confidence in themselves.  The relationships we develop with our Stamford families is vital to the achievement of our mission. Our on-going communication and involvement with each camper's family enhances our understanding of each child.
Playland provides door to door transportation in Stamford and the surrounding towns.  Kids are driven to camp by mini school buses.  The Stamford First Student bus company provides some of the buses we use.   Each bus is driven by a professional driver.  We have one of our staff members on the bus as a bus counselor to ensure campers enjoy a safe and fun ride to and from camp.  Our bus counselors are the first ones picked up and the last ones dropped off.   Bus transportation is included in tuition.   Campers are grouped according to the grade level they will be entering.  Each group has up to 15 campers and is led by a senior counselor and several junior counselors.  The senior and junior counselors stay with the campers all day and escort them to the different activities.  The group counselors participate at the activities creating a teaching ratio of one staff member for every four campers.
In Stamford, buses will pick up campers between 8:45 and 9:15.  The day consists of six forty-five minute periods (this is adjusted for the younger and older campers).  Every camper swims twice a day in one of our three heated pools and will enjoy a lesson and free swim during there swim period.  As part of there six period day campers will have athletics.  From baseball to basketball, soccer, lacrosse, field hockey and hand ball campers are instructed by the finest staff in developmentally appropriate skills and games.  The groups go to other activities once our twice a week.  These activities include boating and fishing, music, theater, low and high ropes, gymnastics, tennis, nature studies, golf, archery, paintball and arts and crafts.  Every activity is planned and taught by specialists who have certification or expertise in his or her area.  During a campers time at Playland they are instructed in a progression of skills that will help everyone grow, develop and learn something new.
In addition to the daily program, weekly activities and special events such as Foamtastic, Song and Banner Day, Carnival Day, Wet and Wild Days, The Playland Olympics, Wacky Hair Day, Counselor Fashion show, Swim Carnival, Free Dance Friday and Various Performers and Shows are planned to add fun and excitement to the daily routine.

We provide a lunch five days a week.  Everyday at lunch we supply either white milk, chocolate milk or water.  In the afternoon we offer snack which typically is a popsicle, ice-cream, fruit or pretzels.  You always have the option to pack a lunch if your child is a picky eater.  During lunch and snack counselors and campers sit together in one of our picnic areas.  After lunch we have sing a longs, play goofy games and enjoy special talents and dance parties before the next period begins.   At the end of the day campers line up for flag lowering by group on one of our ballfields and are then dismissed to their bus counselors.  The bus counselor will walk his or her group of campers to their bus.  All buses leave at 4:00, returning to Stamford homes between 4:15 and 4:45.  We offer a late pick up and early drop off.