Summer Camp for Bridgeport, CT
The Day Camp with the Away Camp Atmosphere!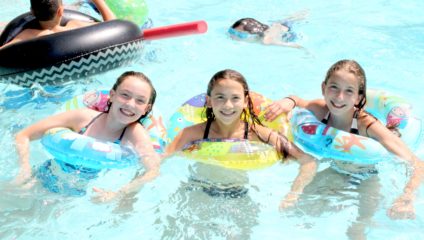 Camp Playland is located on a beautiful 18-acre wooded campus and combines an excellent facility with a mature staff and outstanding sports and activity programs. With over four hundred campers and a staff of over one hundred and fifty teachers, college and high school students, Playland prides itself on giving each camper a FUN, SAFE, and INSTRUCTIONAL summer experience.
Day Camp Activities
Playland offers an exceptional array of sports, creative arts, aquatics and adventure and exploration activities to appeal to the interests and abilities of all campers. Every day campers play, learn and have an enormous amount of fun! Our philosophy (safe, fun, instructional) is the umbrella under which all activities are planned.
Camp Transportation from Bridgeport, CT
Playland provides central pick up in Bridgeport, CT and the surrounding towns in Connecticut, with bus transportation included in the camp tuition. Campers are usually picked up between 8:45am and 9:15am, with each mini-bus having one bus counselor to ensure campers enjoy a safe and fun ride to and from camp.
Early Drop-Off & Late Pick-up
We understand that parents' schedules are very hectic and we try to make summer as smooth as possible. Playland offers early drop-off and late pick-up options for those parents who need a little flexibility in their schedule, at no additional cost.
ENROLL FOR THE UPCOMING SUMMER TODAY!