Summer Day Camp near Greenwich, CT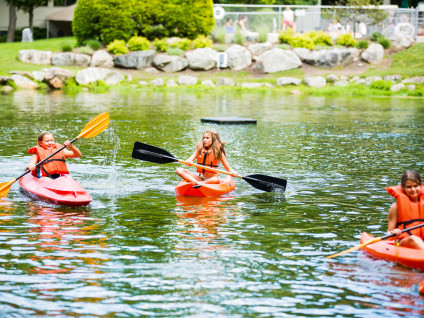 "The Day Camp with an Away Camp Atmosphere"
Founded in 1957, Camp Playland has provided children over 62 summers of fun for boys and girls ages 3 to 14.
Camp Playland is a family run business. Walter and Pearl started the camp, and their son Gary and his son Steve continue the family tradition.  The Blooms take tremendous pride in caring for your children. We provide a safe, fun and instructional summer for children.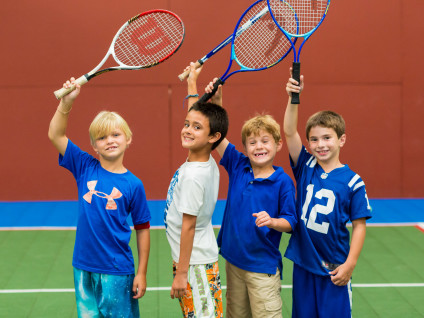 Camp Transportation from/to Greenwich, CT
Door-to-door bus transportation is provided for Greenwich families! Small school bus/vans driven by professional drivers transport campers, with either a Greenwich college or high school student riding as a bus counselor. Camp Playland is located in New Canaan 2 miles north of the Merritt Parkway, so the travel time from Greenwich is very quick.  The bus ride becomes an extension of the camp day – a spirit of camaraderie begins on the bus ride and continues during camp activities.
Enjoy a Safe & Fun Summer in Connecticut
Most important to Playland is providing a safe and fun summer.  We hire mature and experienced staff members who truly love children and love outdoor activities.  Children are grouped according to grade in school; for most age groups boys and girls are separated.  There are 14 to 16 children per group.  A senior counselor leads each group and 2 or 3 counselors assist.  Head Counselors supervise every 3 or 4 groups.  Specialists with expertise in their area teach skills and games.  The specialist stays at the activity all day and plans and implements the program.  Group counselors escort the group to the activity and participate with the campers.  We maintain a 1 counselor to 4 camper ration.  Playland staff members are trained to structure every activity for success.  Campers are encouraged to try everything in a safe environment.
The social experiences engendered at Camp Playland last a lifetime. Camp allows kids to be kids in an unpressured environment.  It is a wonderful opportunity for children to socialize with peers and mentors and to create memories that will last a lifetime.
Camp Playland is the place you want to be this summer.  We are happy to welcome Greenwich families and we invite you to arrange a time to visit.  This upcoming summer will be another safe, fun and instructional summer!