Summer Day Camp near New Haven, CT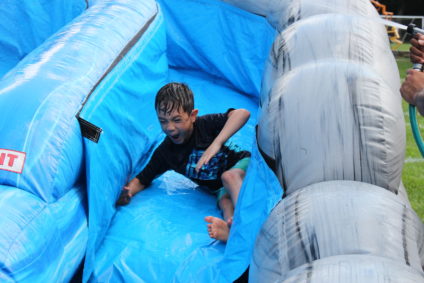 Camp Playland of New Canaan provides a safe, fun and memorable summer for families from New Haven, CT, and the finest day camp experience in all of Fairfield County. Camp Playland is located on a beautiful 18-acre wooded campus and combines an excellent facility with a mature staff and outstanding sports and activity programs.
Camp Activities
Our premier instructors and exciting and unique activities help make us the #1 camp in Fairfield County. Playland offers an exceptional array of sports, creative arts, aquatics and adventure, and exploration activities to appeal to the interests and abilities of all campers. Every day campers play, learn and have an enormous amount of fun! Our philosophy (safe, fun, instructional) is the umbrella under which all activities are planned. Activities include:
Swimming – Lessons and Free Swim
Athletics – Soccer, Baseball, Tennis, Golf (9 hole mini-golf & driving range), Lacrosse, Basketball, Street Hockey, Football, Handball, Gymnastics and more
Creative & Performing Arts – Dance & Drama, Movement, Music, Arts & Crafts, Karaoke
Adventure & Exploration – Go-Karts, Archery, Sling Shots, Science Exploration, Boating, Fishing, Ropes Courses, 2 Zip-Lines, Climbing Tree, Karate
Camp Transportation from New Haven, CT
Playland provides door-to-door transportation in Fairfield County, with campers being picked up between 8:45am and 9:15am. Bus transportation is included in the camp tuition, with campers grouped according to grade level.
Each mini-bus has one of our staff members as a bus counselor, to ensure campers enjoy a safe and fun ride to and from camp. Our bus counselors are the first ones picked up and the last ones dropped off.
With over four hundred campers and a staff of over one hundred and fifty teachers, college and high school students, Playland prides itself on giving each camper a FUN, SAFE, and INSTRUCTIONAL summer experience.
ENROLL FOR THE UPCOMING SUMMER TODAY!