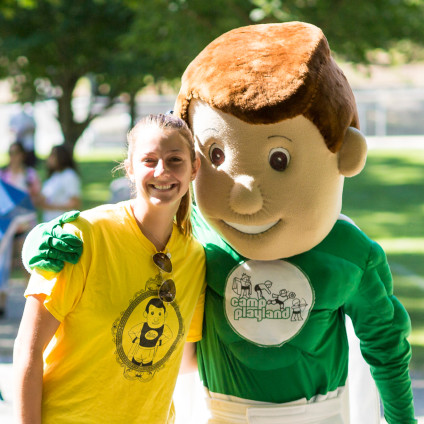 Playland Boy is Camp Playland's superhero mascot.  He loves being outdoors, being a kind friend, and all photo opportunities!  I recently had the opportunity to sit down with Playland Boy and ask him some personal questions.  Here, in his own words, is a list of Playland Boy's favorites:
Color: The color purple.
Travel Destination: Rio De Janeiro.
Food: Soft pretzels.  Tastes best at a ball game.  The frozen ones aren't bad.
Camp Activity: Love the new sling-shot range, but my favorite activity will always be Nature.  Nature at Playland is an adventure!  It's an activity that exercises the heart and the mind.
Animal:  Any Muppet.
TV Show: I'm a Superhero so I have to support my own genre! Batman and Superman are great.  I really like the Ninja Turtles.
Author: Roald Dahl is sublime.
App: I enjoy following Camp Playland on Instagram.
Flower:  Queen Anne's Lace.  Google it.
Camp Accessory: I never go anywhere without my goggles!
Song: I'm a summer kid!  I love me some Beach Boys.
Article of Clothing: Forget what I said about the goggles.  I really never go anywhere without my cape!
Actor: Will Smith