---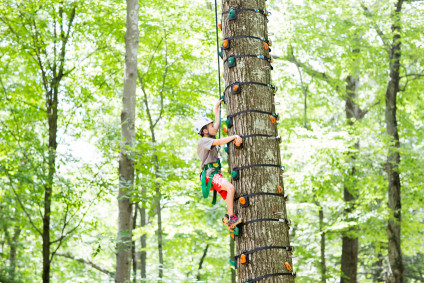 By Steve Bloom – When people find out that I work at a summer camp year round, they often ask, "what do you do in the winter?"  
The answer: we plan for the next camp season!
 At Playland, we strive to improve our facility and program every year.  One way I spend the offseason is by visiting other day camps in the northeast.  Last fall, Matt, Gary and I visited Ramapo Country Day Camp in Rockland County, New York.  We met with their directors, a father-daughter team.  (side note: many summer camps are family businesses, and it is exciting to share this bond).  They took us on a tour of their campus and we were wowed by their home run wall!  We decided this would be a great addition to Playand and built a wall with major league padding for the 2015 camp season. 
The American Camp Association (ACA) promotes a culture of sharing and collaboration.  "It's for the greater good of the camp industry."  In fact, one popular mantra in the camp world is C.A.S.E, which stands for Copy And Steal Everything. Another thing we do in the offseason is attend camp conferences.  Matt and I often attend the annual ACA Tri-State Camp Conference in Atlantic City.  The conference attracts over 5,000 camp professionals and is a great way for us to network and learn about new trends in camping.  As part of the Tri-State Conference, there is a gigantic vendor hall with hundreds of companies advertising their camp products.  There are activities, toys, promotional merchandise, food and anything camp that you can imagine! We leave the conference with bags of goodies.  The vendor hall is how we found "Monkey Hardware," the climbing tree company, which we added to the facility in 2015.
Here is a timeline of recent Playland additions:
2015 – Home run wall and home run fence added to two baseball fields, Monkey Hardware climbing tree, Paintball Slingshots 
2014 – Water Flume in deep pool, tennis court, mist system in pavilion, shower house floors, new blow up waterslide, additional supervisors, Tony's Deli lunches offered for purchase
2013 – Karate, catered lunches twice a week (previously once a week) Arts & Crafts room renovated
2012– Water World, Human Fooseball
2011– 300 ft Zipline, Basketball court 
2010- Purchased 8 additional acres