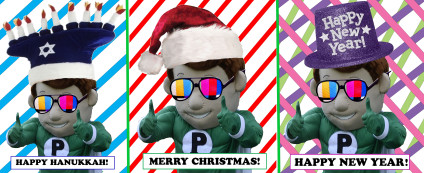 By Steve Bloom –  I grew up in a house on the Playland property.  I was lucky enough to have my grandparents live next door to me – they lived in the house that is now the camp and school office.  When I was a child, the holidays at Playland meant seeing my grandpa dress as Santa Claus and visit the Playland Preschool classrooms.  He would bring a sack of knick-knacks to each classroom and "ho ho ho" for the preschool students. When I was seven or eight he let me be one of his elves.  This was one of the most exciting moments of my childhood! I put on every green item of clothing I owned and met him at his house to begin our little Christmas journey.
I vividly remember walking with him across campus from classroom to classroom.  I don't remember what we talked about (maybe he told me, "grandson – one day all of this will be yours!"), but I will never forget that great feeling of being a green elf to my grandfather's Santa.
At Playland, the holiday season means two things. First, it means spending time with family – walking with your grandfather. Second, it means summer 2016 will be here before we know it! When we come back to work in January, it will be time to begin rehiring and hiring staff, giving dozens of camp tours every week, making group schedules, and re-visiting ways to improve the facility and camp program.
Happy Holidays to all!  It is a good time to rest up for summer 2016, our 60th season!